To get to the capital of Argentina by air, there are 2 airports which are accessible. The main one is the Ezeiza Airport (EZE) on the outskirts of Buenos Aires and the otherone, from which depart many of the domestic flights is Aeroparque (AEP).
Ezeiza airport is located 35 km southwest of Buenos Aires, so it is important to estimate the transfer time to get to the city (estimate at least 1 hr. Depending on time and traffic), and of course the cost.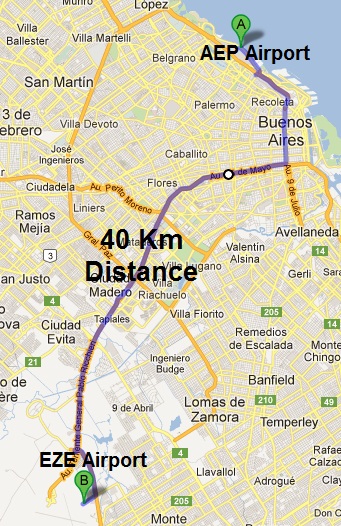 As we write this entry, Argentina is in a constant process of high inflation, so it is highly likely that prices described herein may be inaccurate or have changed considerably (possibly they will be higher). We list these prices only to have an idea, but we ask you to confirm prices before taking any service, and let us know if there is any variation.
BUS/COMBI
This is one of the cheapest methods, and considers transportation specially dedicated to these tasks, so it is safer than public transportation, and more expeditious. From and to the airport there are at least two companies that make the trip:
Tienda León: 

From Ezeiza to Terminal Madero costs about 110 per person and depart every half hour. Buses also leave from Aeroparque.
Aerobus: 

It arrives to Av. Belgrano 254, Capital Federal. The fare is 36 ARS per person without luggage, 70 ARS with 1 piece and 2-piece costs 90 ARS. The times in which it operates are Monday to Friday from 8:15 pm. 18:40 pm. every 30 minutes. The trip takes 30 minutes. No need to make reservations.
TAXI
Possibly the most expensive method, but as in all destinations, depending on the number of people traveling together can be the most convenient. If you are traveling in a group of 3 people, it can be even more convenient than alternatives such as buses or combis (transfers).
Radio Taxi companies usually charge about 250 ARS daytime and 300 during the night from the Congress. There are many taxi companies that have established flat rates or promotions. Always check the price before getting in, because sometimes they charge you with additional costs not previously stipulated (eg tolls and waiting times).
Taxi Ezeiza usually has promotions that are much cheaper than alternatives, especially to go from and to the airport (270 ARS all inclusive). This company is reliable and legal, and so if you are going to take a taxi, it is best to make sure and take them. At the airport they have a special desktop, they charge you a fixed price and this is paid directly in there, so afterwards there is no need to pay to the taxi driver.